Standard Pet Policy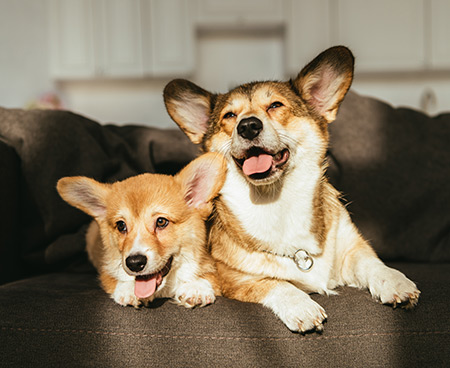 Mega Agent Rental Management Georgia LLC (MARM) is a pet-friendly Atlanta property management company. Our properties are owned by individual owners so certain properties may restrict type and/or size of allowable animals, so some owners have a stricter pet policy than our standard pet policy. If you have more than two pets or a special situation, please let us know and we can provide additional guidance.
Tenant(s) may keep up to two (2) pets in the home. The pets must not be on the "restricted breeds list" (see below). The Tenants and Landlord must execute a "Pet Addendum" to the Residential Rental Agreement in order to keep pet(s). This "Pet Addendum" details the terms and conditions for which a Tenant must abide by in order to keep pets in the Landlord's home.
Puppies and Kittens (under age of 12 months) will be considered on a case by case basis.
All approved pets / animals are subject to a required 25.00 Pet Administrative Fee, per pet, upon move-in, plus a $250, per pet, non-refundable Pet Fee. The $250 non-refundable Pet Fee is in lieu of monthly pet rent and is not a damage deposit of any kind. (i.e. if you have 2 dogs, you will pay $550 at move-in for the 2 dogs).
Pet Screening
MEGA AGENT RENTAL MANAGEMENT GEORGIA LLC has partnered with PetScreening.com. It is a simple and secure tool allowing tenants who are pet owners to store all the important information about pets in one place. Tenants are required to complete a pet screening for each of their pets or companion animals prior to move-in. Pet screenings are $20 per first pet and $15 per pet for any after the initial animal.
As part of the screening process, the prospective Tenant shall submit to the website MegaAtlanta.PetScreening.com a current photo of each pet along with information on your pet along with current veterinarian records. Mega Agent Rental Management Georgia LLC may also request current veterinarian records at any time, including to verify current pet weights.
At the time of each lease renewal, each pet will need to be re-screened at PetScreening.com at the tenant's expense. If the tenant fails to re-screen their pet(s) by the 15th day of the first renewal month, then tenant will be assessed a late screening fee of $50, per pet, for every month that the re-screening is not submitted beginning on the 15th day of the first renewal month.
PetScreening.com is an independent 3rd party database and changes can only be made by the tenant through the PetScreening.com website. Mega Agent Rental Management Georgia LLC cannot change any pet information.
Assistance Animals
Mega Agent Rental Management Georgia LLC has engaged PetScreening.com to review and verify all tenant requests for accommodations for assistance animals. There is no charge to submit an accommodation request through PetScreening.com. When PetScreening.com approves an accommodation request, there will be no pet charges from Mega Agent Rental Management Georgia LLC. If PetScreening.com denies an accommodation request, the tenant will be responsible for pet fees outlined in this document and the Residential Rental Agreement (Lease).
Requirements
In order to keep pet(s) in a property the Tenant(s) must abide by the following requirements:
Tenant(s) shall abide all of the terms and conditions of the "Pet Addendum" that will be signed with the Residential Rental Agreement.
Tenant(s) shall not allow pet(s) to wander outside of Tenants' exclusive portion of the property without supervision and the use of a leash.
Tenant(s) shall keep the pet restrained (but not tethered) when outside the home.
Shall dispose of the pet(s) waste properly and quickly.
Shall not leave the pet(s) unattended for any unreasonable periods of time.
Shall keep the pet(s) from causing any annoyance or discomfort to others.
Shall immediately remedy any complaints concerning the pet(s).
Shall keep the pet(s) from damaging any property belonging to the Landlord or others.
Shall ensure that pet(s) have been properly vaccinated for the duration of the Rental Agreement.
Restricted Breeds
We do not accept the following dog breeds:
Akita
American Bulldog
American Staffordshire Terrier
Chow Chow
Doberman Pinscher
German Shepherd
Husky
Malamute
Pit Bull
Presa Canario
Rottweiler
Staffordshire Bull Terrier
Any dog with a history of biting
Any dog with a vicious temperament
Puppies & Kittens are accepted on case by case basis.