Marketing Your Rental Home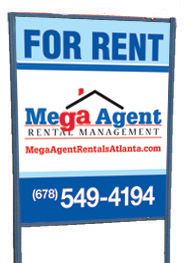 Mega Agent Rental Management Georgia puts every one of our rental listings into our Pro-Active Marketing System. Our advertising system puts the most qualified tenants in your home in the fastest time possible, and for the highest monthly rent. The more exposure your home gets, the better chance we have at finding the best and most qualified tenant for your property. Other property management companies only list your home on several listing services and pray it gets rented. With Mega Agent Rental Management Georgia, you can feel comfortable knowing that we are the most innovative and technologically advanced Property Management Company in the Atlanta, GA area.
Here are a few of the different approaches Mega Agent Rental Management Georgia uses while marketing your rental home:
Powerful Internet Marketing: We regularly publish your home to the most popular rental websites on the Internet. Our marketing team is frequently monitoring these websites to ensure our listings are accurate and have the most up-to-date pricing information. Rest assured, you will find your home on the most popular portals like Zillow and Trulia.
We also post homes in the Atlanta's First Multiple Listing Service (

FMLS

) and MegaAgentRentalsAtlanta.com.
We actively market our listings to our running database of prospective renters.
We enlist the help of over 5,000 REALTORS© to assist us in finding tenants. We even share half of our leasing commission to incentivize licensed REALTORS© to bring us the most qualified tenants.
We have full time administrative staff to assist our agents in fielding inquiries from potential tenants.
We meet prospective tenants at our listing locations for showings throughout the week and even on weekends.
We cross-reference all tenant inquiries against a list of upcoming vacancies among our managed properties.
We utilize a call center to field all showing calls from agents between 8am and 8pm Monday through Saturday, and from 8am to 6pm on Sundays; so you won't miss a showing because no one was available to receive an agent's phone call.
We get feedback from agents each time we show your home.
We maintain relationships with some of the largest corporate relocation and placement services.
We install the same secure lock-box system all area REALTORS© use to ensure that only REALTORS© or members of our company will be opening the door for showings to potential tenants.